In our latest episode of Opening Doors with Ross Guttler, Ross experiences the healing benefits of the Higher Dose's Infrared Mat with Higher Dose co-founder, Lauren Berlingeri.

The Higher Dose Infrared Mat combines the power of infrared with 20 pounds of crystal therapy and the healing frequency of PEMF (Pulsed Electromagnetic Field) technology, which has been scientifically proven to recharge your cells and activate your Parasympathetic Nervous System for a deep full-body reset. Benefits include: reduced stress; increased energy; immune support; better sleep; Central Nervous System support; improved circulation; improved muscle recovery and more. Learn more about Higher Dose here.

"The Higher Dose infrared mat surprised me in how many different ways I ended up using it. I expected meditation to be its primary function, and it didn't disappoint, allowing me to drop in easier than I normally do otherwise. The first few times I sat up in a normal posture. But eventually I tried meditating while lying down and I'm so glad I did. I fell asleep half the times I tried it and woke up 20 minutes later feeling so rested. Then I spoke with the founder, Lauren Berlingeri, and she mentioned how her husband loves napping on it so much that he often lays on it before bed. So now I use the mat regularly for meditation, napping and also preparing myself for bed, especially if I feel a bit wired.

The mat has become a permanent fixture in my bedroom. It's also big enough for two seated people so occasionally I'll have a deep conversation on it with a friend. I just like the mindset the mat puts me in. It's a bit heavy, so not ideal for schlepping around. My recommendation is to find some semi-permanent space, leave it out all the time and I bet you'll discover new ways that it improves your life." – Ross Guttler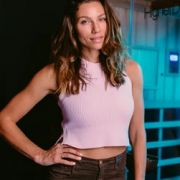 Lauren Berlingeri studied at The Institute of Integrative Nutrition where she became a certified holistic nutritionist and health coach. Lauren is a Canadian host, fitness expert and international model. She was the star of the popular web series "Woman Vs. Workout" which grossed over 15 million views. She has been featured in Women's Health Magazine, Shape Magazine and Fitness Magazine.
And don't miss Ross Guttler as a featured speaker at the upcoming EcoChi Virtual Summit.

The EcoChi Virtual Summit brings together thought leaders from different industries to explore the topic of sacred places, spaces & our well-being. This year's theme, "Where Are Sacred Places? The Answers Will Surprise You."

Tune in on Thursday, June 17 at 10:05 am ET, when Ross will share his personal journey from the corporate life at Delos, to his sacred purpose. Through his work he realized that there was more—a deeper "knowing" and that spaces impact our well-being not only with science but beyond, and into the realm of individual experience.